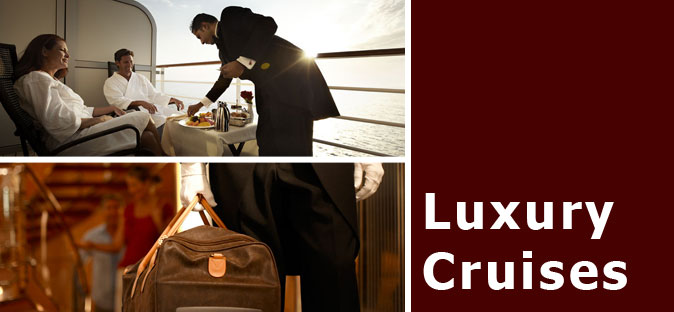 ---
Luxury Cruises
Luxury cruise is the ultimate travel experience, catering for the most sophisticated tastes and offering atmosphere of perfected elegance and delightful opulence. Once you come aboard your six-star cruise ship, you will come to re-define the term luxury, and realise that a truly special cruise holiday is only just beginning.
A great welcome onboard awaits; enjoy the finest cuisine provided by world famous Le Cordon Bleu chefs. Their signature menus and exquisite skills will give you a gastronomical experience never to be forgotten.
The blue ribbon accommodation ranges from the most elegant staterooms to magnificent penthouses and suites where grace defines every detail. Relax and enjoy the most salubrious of onboard accommodation, virtually all with private balcony.
Luxury cruises mean luxury service. They are masterfully trained, highly skilled, unobtrusive, kind and caring people. Whether their role is stateroom stewardess, penthouse butler, gentleman host or dining room steward, service is always impressive. They love what they do. And it shows.
Luxury Cruise Deals
Cruise Deals Sign Up
---

Sign up to receive the best cruise deals directly to your inbox.
Click To Sign Up